Minute programme including Finnish sessions
Minute programme with English content only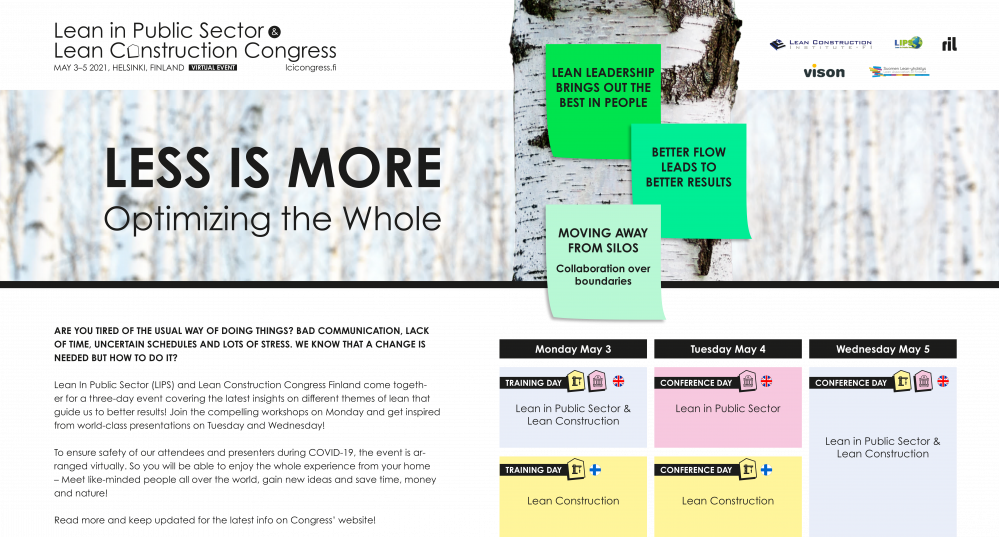 LEAN CONSTRUCTION Congress will be organized jointly with LEAN IN PUBLIC SECTOR (LIPS) Conference on May 3-5, 2021.
Event will be organized fully virtually
Our virtual platform offers you
Easier Networking
Using our conference platform you can network and interact with other participants from your home or office.
1-2-1 messages and video calls are available and you can see who is attending.
Participants can contact directly our speakers.
Wider Group of participants
As the conference is not tied to a certain location, we can reach bigger audience from all over the globe.
Access the material 24/7 also after the event - you won't miss any of our excellent presentations
You can watch the presentations and access the material 24/7
Platform will stay online after the event for 60 days.
Are you tired of the usual way of doing things? Bad communication, missing details, uncertain schedules and lots of stress. We know that we need to change but how to do it?
Lean Construction Congress & LIPS conference are a three-day event for all doers, leaders and innovators who are not just satisfied with how the things are! If you are either owner, contractor, designer or other service provider, there will be something for you.
Join the compelling workshops on Monday, hear world-class speakers and learn from the latest Finnish hands-on experiences on Tuesday & Wednesday.
In 2019 the Congress attracted 350 participants from all over the globe and received excellent feedback but we ain't settling down as we aim to make the Lean Construction Congress 2021 even better than last time and this time we are also adding the Public Sector perspecitve in the programme!
Join us and you are guaranteed to leave with new ideas and interesting conversations with like-minded people!
Speakers include
Michigan State University
Michigan State University
Karlsruhe Institute of Technology
Keusote (Keski-Uudenmaan sote -kuntayhtymä)
YLE (Finnish Broadcasting Company)
Kristiina Kariniemi-Örmälä
Keusote (Keski-Uudenmaan sote -kuntayhtymä)
BoKlok Housing AB / Adjunct Professor at Stanford University
Lean Construction Advisory Group
Ministry of Infrastructure and Watermanagement (Netherlands)
Finnish Transport Infrastructure Agency
Technion - Israel Institute of Technology
Universitary Hospital of Bellvitge