ESPOO

The City of Espoo offers diverse and high-quality culture and leisure services. At the City's libraries, museums, cultural centers, and youth centers, you can find yourself amid surprising experiences.
The city's beautiful nature beckons you to enjoy activities on and at sea - with a guide or independently, whatever the season
Find out more: https://www.visitespoo.fi/
HELSINKI

Helsinki, the capital of Finland, is a vibrant seaside city of beautiful islands and great green parks. The city's rhythm is laid back yet at the same time refreshingly active in terms of both the number and quality of restaurants and nightclubs.
Helsinki is a compact city easily explored on foot. Design, architecture, culture, and shopping are all great exploration angles and large park areas, forests, lakes, and the coastline with numerous islands sprinkled off it make certain there's no shortage of natural presence. Needless to say, there's something going on in Helsinki every day of the year.
Find out more: https://www.myhelsinki.fi/en
CONFERENCE VENUE DIPOLI
Address: Otakaari 24, 01250 Espoo
Map
Website
Dipoli is the main building of Aalto University and a popular meeting place. Dipoli was originally designed in 1966 by Raili and Reima Pietilä as the new university building for technology students.
Distance from Helsinki Airport: 1 hour 15 minutes
We recommend arriving at Dipoli by public transportation. Aalto University metro station is located just 450 meters from Dipoli.
There is a direct train from Helsinki Airport to the Central Railway Station where you can take the metro to Aalto University.
Below you can see the route from Aalto University metro station to the conference venue. Click the picture for google maps directions.
Pictures of the conference venue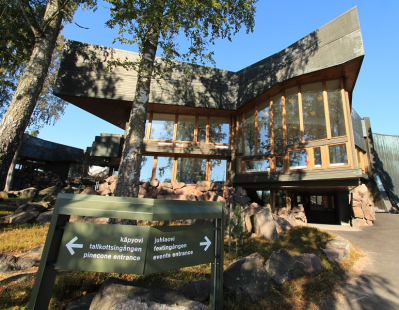 ACCOMMODATION
Organizers have reserved accommodation from
Radisson Blu Espoo
Address: Otaranta 2, 01250 Espoo
Map
4-minute walk to the venue
Single room 129 EUR / night
Double room 140 EUR / night
Available reservation period September 18-22
Booking Code: B22LCC
Valid until August 21 unless sold out before
Reservations: reservations.finland@radissonblu.com or +358 300 870 010