Technical excursion
Technical excursion will be organized on October 12. Excursion will start from the symposium venue after lunch and it will finish to the airport/city centre around 18.00.
Excursion is included in the registration fee. 50 seats available!
Schedule
13.00 Departure from Symposium venue. Presentation of Länsimetro (the west metro) in the bus
14.00 Visit to Länsimetro (the west metro) Finnoo station
15.30 Departure from Finnoo. Presentation of Blominmäki wastewater treatment plant in the bus.
16.00 Visit to Blominmäki wastewater treatment plant
17.00 Departure towards the airport and city centre
18.00 (latest) Bus will reach Helsinki Airport
18.30 Bus will reach city centre
Länsimetro
From Ruoholahti to Kivenlahti
13 new stations, 21 kilometres
The metro in the Helsinki metropolitan area is set to continue from Ruoholahti via Lauttasaari to Espoo. In the first phase, a rail line of 14 kilometres from Ruoholahti to Matinkylä will be completed including eight new stations. Koivusaari and Lauttasaari stations will be located in Helsinki, and Keilaniemi, Aalto University, Tapiola, Urheilupuisto, Niittykumpu, and Matinkylä will be located in Espoo.
The Matinkylä–Kivenlahti stretch of the west metro will be the next construction phase consisting of seven kilometres. New stations will be Finnoo, Kaitaa, Soukka, Espoonlahti, and Kivenlahti.
The entire line from Matinkylä to Kivenlahti will be completed in 2020 at the earliest.
More information can be found here
Pictures of Finnoo station area
Blominmäki wastewater treatment plant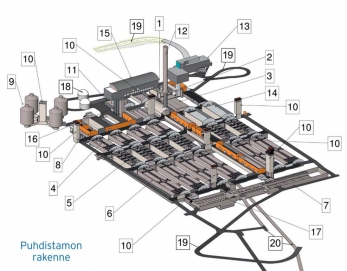 A new wastewater treatment plant will be built in Espoos Blominmäki bedrock. The caves to be excavated underground will host the wastewater treatment basins and the majority of other facilities.
The new treatment plant will replace the current Suomenoja wastewater treatment plant. The capacity of the Suomenoja treatment plant is no longer sufficient to treat the entire areas wastewater because the population and expectations for intensified wastewater treatment increase. After its completion in 2020, the treatment plant will process the wastewater of 400,000 residents from Espoo and Kauniainen, Kirkkonummi, Siuntio and Western Vantaa.
The underground facilities of the treatment plant can be eventually expanded to cater for the wastewater of over a million residents, and so the new location of the treatment plant offers facilities for at least hundred years.
By 2040, it is estimated that 150,000 m3 of wastewater will flow through the new treatment plant daily. The volume exceeds the current volume of wastewater flowing to the Suomenoja treatment plant by about half.
The excavation of the underground caves of Blominmäki wastewater treatment plant was launched through earthworks on 16 September 2015. After the completion of earthworks, Lemminkäinen (contractor) begun with tunnel excavation on November 2015. The excavation and reinforcement work continue until January 2018.