Keynote speakers
"Deformation modulus of rock masses : recent developments"
Professor Dr Candan Gokceoglu, Hacettepe University, Ankara
Prof. Dr. Candan GOKCEOGLU graduated from the Department of Geological Engineering, Hacettepe University in 1989. He became a professional engineer and did his doctorate at Institute of Science and Technology, Hacettepe University between 1993-1997. Dr. Gokceoglu who became associate professor in 2003, became a professor in 2009. Prof. Dr. Candan GOKCEOGLU is the Head of Applied Geology Division of Hacettepe University and the Chairman of the Executive Board Hacettepe Technopolis.

He has written more than 120 scientific papers published in leading academic journals on rock mass characterization, engineering geology, slope stability and landslides. He is the Associate Editor of Computers & Geosciences, and the Editorial Board Member of Engineering Geology. He will give a Keynote on Recent Developments of Deformation Modulus of Rock Masses.
"Principles of Ground Support Design"
Professor Charlie Chunlin Li, Norwegian University of Science and Technology (NTNU)
Dr. Charlie Chunlin Li is a professor in the Norwegian University of Science and Technology (NTNU). His professional education was in geological engineering (degrees of BEng and MEng) and rock mechanics (Ph.D.) He worked as a research associate and then associate professor (Docent) in mining rock mechanics in Luleå University of Technology for seven years. He was employed as a ground control engineer and worked in the Kristineberg mine, Sweden, for more than 4 years. He was the Chief Technology Officer of Dynamic Rock Support AS for 4 years.
Dr. Li has more than 30 years experience in rock mechanics and ground control for mining and civil engineering. His major interests are stability of rock and rock masses, rock support and underground space design. In the last two decades, his attention has been paid to the theory and practice of rock support, particularly in high stress rock conditions. He has profound knowledge in rockbolts and other types of rock support elements. He invented the D-Bolt to overcome the shortcomings of conventional rockbolts in coping with stress-induced instability problems in underground rock excavations.
Professor Li has practical expertise in rock support, stability of underground excavations and in-situ measurements and interpretations. He acted as a scientific and technical advisor many times for mines, tunnels and underground hydropower projects.
Professor Li is at present the Vice President for Europe (2015-2019) in the International Society for Rock Mechanics (ISRM).
"Synthetic Rock Mass in the Swedish Nuclear Fuel and Waste Management Program"
Dr. Diego Mas Ivars, SKB
Diego Mas Ivars is a mining engineer specializing in engineering geology with 16+ years of experience. He currently works as Scientific Coordinator of the rock mechanics program at SKB.
Past experience includes project work, project management, technical management and mentorship in the fields of numerical modelling, rock mechanics, engineering geology and geophysics for the nuclear waste isolation, mining, oil and gas and civil engineering industries.
Dr Mas Ivars has conducted field, laboratory and numerical research regarding the characterization of hydro-mechanical behaviour of fractured rock masses with application to inflow into excavations. He has also been involved in the development of a methodology (Synthetic Rock Mass), based on the DEM numerical technique, for improving the capability to predict the deformability, yield and failure of jointed rock mass.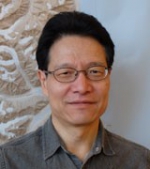 "Rock mechanics related mining engineering"
Professor Zongxian Zhang, University of Oulu
Zongxian Zhang is currently the Professor of Mining Engineering at Oulu Mining School, University of Oulu, Finland. He was Professor (2014-2016) and Associate Professor (2013-2014) of Rock Mechanics at the University Centre in Svalbard, Norway. He had worked at the mining company LKAB for ten years as Senior Research Engineer and successfully completed a number of mining projects such as reducing blast-induced vibrations, improving rock fragmentation and increasing ore recovery by developing and using new blasting techniques, reducing rock damage in the roofs of tunnels, and breaking down hanging roofs in sublevel caving mining.
When Prof. Zhang worked at the University of Science and Technology Beijing and Luleå University of Technology, he carried out experimental study on rock fracture under various loading rates and different temperatures, and experimental study and field measurements on rock drilling and rock excavation. He is the author of the book Rock Fracture and Blasting: Theory and Applications published by Elsevier in 2016.
"The Role of Rock Mechanics in the Design Process of Underground Rock Facilities"
Mr. Jukka Pöllä M.Sci (Rock Eng., Geotechn. Eng.), Licenciate of Science (Rock Eng., Eng. Geol.)
Jukka Pöllä is a rock and geotechnical engineer. He has 40 years experience from various rock engineering and geotechnical projects He has been involved in many large projects in their different stages including city planning processes, feasibility studies, design and construction stages as a designer, project manager as well as specialist including municipal and multipurpose tunnels, road- and metrotunnels, large underground caverns for different purposes, large excavations etc.
Jukka has Finnish FISE qualifications for a designer of exceptionally demanding rock structures and designer of demanding foundation structures. He has been a project leader in many research projects dealing with rock mechanics and rock quality, grouting, shotcreting, blasting vibrations and he has participated in development of different guidelines for rock engineering. He has 70 publications and articles published in conference proceedings, books, journals and research reports.