Keynote speakers
October 5 at 9.30
"Sustainable design for compact city living - an experience from Hong Kong"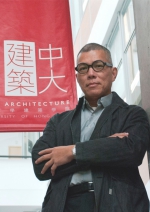 Edward NG Yan-yung
Professor, School of Architecture, Chinese University of Hong Kong

Professor Edward Ng is an architect and Yao Ling Sun Professor of Architecture in the School of Architecture of The Chinese University of Hong Kong (CUHK). He specializes in Green Building, Environmental and Sustainable Design, and Urban Climatology for City Planning. Professor Ng is also the Director of the Master of Science of Sustainable and Environmental Design Programme. As an environmental consultant to the Government of the Hong Kong Special Administrative Region, Professor Ng developed the performance-based daylight design practice note, the Air Ventilation Assessment Technical Guidelines and the Urban Climatic Maps for City Planning. He is now working with the governments and agencies in Singapore and Macau, as well as a number of Chinese cities, on Urban Climatic Maps. Professor Ng has published over 400 papers and 3 books. He has twice received the International Award from the Royal Institute of British Architects (RIBA).
October 5 at 10.00
"Zero Emission Buildings – From definition to demonstration buildings"
Arild Gustavsen
Professor, Centre Director, Research Centre on Zero Emission Buildings, Norwegian University of Science and Technology - NTNU
Arild Gustavsen is a professor in building physics and the director of the Research Centre on Zero Emission Buildings (ZEB Centre) at the Faculty of Architecture and Fine Art, Norwegian University of Science and Technology – NTNU. He holds a MSc degree in environmental physics and a PhD degree in building physics.
His research interests include heat, air and moisture transfer in building envelope systems, development and application of new materials for building assemblies, and energy use in new and existing buildings. He has a particular interest in façade systems.
October 6 at 9.30
"How to measure sustainability? The assessment of sustainability in construction and architecture."
Kimmo Lylykangas
Kimmo Lylykangas is a practising architect and expert on sustainable construction. In 2014–15 Lylykangas was adjunct professor at the Umeå School of Architecture in Sweden, teaching the international master's program Laboratory of Sustainable Architectural Production. In 2003–12 he was working at the Aalto University (former Helsinki University of Technology), Department of Architecture, as teacher and research manager. Kimmo Lylykangas Architects Ltd is a forerunner in energy-efficient construction in Finland.
October 6 at 10.00
"Wellbeing and productivity in sustainable buildings"
Atze Boerstra

Dr. Atze Boerstra is founder and managing director of BBA Indoor Environmental Consultancy, a consultancy company specialised in indoor air quality and thermal comfort based in The Hague. He is fellow at the Eindhoven University of Technology, REHVA fellow and honorary member of the Dutch chapter of ISIAQ (International Society of Indoor Air Quality and Climate). Atze was recently elected as vice-president of REHVA.