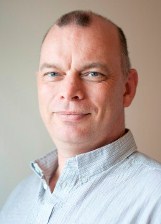 Jon Brede Dukan
Deputy Head of Infrastruction Construction – Infrastructure construction division
Bane NOR
"Mandating BIM for Infrastructure and Construction DX in Japan"
Nobuyoshi Yabuki
Professor, Ph.D.
Division of Sustainable Energy and Environmental Engineering,
Graduate School of Engineering,
Osaka University
Nobuyoshi Yabuki is a full professor in the Division of Sustainable Energy and Environmental Engineering, Osaka University, Japan. His research area is civil engineering informatics, which is the applications of advanced ICT including AI, IoT, BIM, VR/AR/MR, Structure from Motion (SfM), laser scanning, etc. to civil and building engineering. He received B.E. at the University of Tokyo, M.S. and Ph.D. at Stanford University, all in civil engineering.

When he started to work at the Electric Power Development Co., Ltd., in 1982, he joined a team introducing and utilizing 3D CAD for civil engineering design. Ever since then, he has been an evangelist of BIM for infrastructure and has become an academic researcher/educator in this field. He has published over 300 journal and international conference papers and has received many academic awards. For the last 15 years, he has been heavily involved in the promotion of ICT for civil infrastructure projects for the Japanese government. He is Chair of the Committee on BIM/CIM Promotion, the Ministry of Land, Infrastructure, Transport and Tourism (MLIT), Japan, External Executive Director, Japan Construction Information Center (JACIC), Vice President of International Society for Computing in Civil and Building Engineering (ISCCBE), Founder/President of Asian Group for Civil Engineering Informatics (AGCEI), Vice Chairman of buildingSMART Japan (bSJ), etc.